COMING SOON …

Set in a distant corner of the galaxy, The Mercenary  tells the story of a spirited and resilient girl, a fierce warrior with a mighty heart, and a passionate love that will rewrite the fate of their corner of the galaxy. This is a standalone story that sets the scene for The War Chronicles, a set of SciFi Romance & Space Opera tales.
---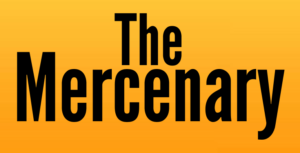 In a distant corner of the galaxy, Quadrant Five burns in the flames of a deadly war. On a space station in neutral territory, a spirited young girl is faced with a desperate choice. When she makes the risky gamble to strike a deal with an enigmatic stranger whose hot gaze follows her on the station, the echoes of their unusual alliance reverberate across the quadrant. Through the minefield of shifting alliances, a mighty Empire will hunt relentlessly for her. But when a warrior's heart demands justice for his beloved, his quest will set them on a path to alter the destiny of her oppressed people, the course of the war and the very fate of their slice of the universe.



Release Dates
---
Cover Art – August 11, 2017
Book – August 25, 2017
The War Chronicles narrate the stories of the people of Quadrant Five, their cultures, histories & politics, and their struggles to survive a deadly war for territory and domination of space that is slowly drawing in every world and civilization into the conflict. Spirited & feisty heroines, brave & adventurous heroes, enduring love stories amidst a deadly conflict, swashbuckling adventure and a sprinkling of action mark these SciFi Romance & Space Opera tales. The stories are all standalone, with many characters recurring.
---
Cover Art by Biserka
A sneak peak at the emblem of The War Chronicles.